Student group awards six Howard County nonprofits after self-initiated fundraising campaign and three corporate matches
A 15-member student panel from the Community Foundation of Howard County's Youth in Philanthropy (YIP) program has selected six nonprofits for its second round of COVID-19 relief grant awards. The grants total $20,000 and will be awarded to the Equity4HC ($5,000), United Way of Central Maryland ($5,000), Prepare for Success ($3,000), Meals on Wheels ($3,000), Neighbor Ride ($2,000) and HopeWorks ($2,000). YIP also donated $10,000 in grants to four other Howard County nonprofits at the end of May, bringing the total YIP grant funding to $30,000 across ten nonprofits.
"Thank you to the wonderful young people at the Community Foundation of Howard County's Youth in Philanthropy program for selecting Prepare for Success as a recipient of one of their 2020 grants," said Roy Appletree, co-coordinator of Prepare for Success. "Their contribution will go a long way to buy the necessary school supplies for this year's unique learning set-up. We so appreciate every generous donation we receive, regardless of amount, but it's always special when a group of students recognize the work we do as vital for HoCo students!"
Youth in Philanthropy, a new program from the Community Foundation, was established in 2019 to provide opportunities for high school students to learn about philanthropy firsthand. The YIP inaugural class consists of 15 sophomores and juniors representing nine different Howard County high schools. The students learn about community nonprofits, explore the fundraising and grant process and tackle local issues such as homelessness, hunger, domestic violence, environmental issues, arts and cultural opportunities. Youth in Philanthropy empowers students to solicit and evaluate grant applications and award funds based on need and effectiveness to nonprofit organizations in Howard County.
When COVID-19 interrupted the school year, the YIP students all agreed to continue in the program and shifted their focus on helping their neighbors through the pandemic. Five teams of three students each researched local nonprofits and compiled a list of charities to nominate for grants. The group met virtually to talk through the nominations and discuss the merits of each nominee.
"It was really impressive how our YIP students adjusted to the new world of Covid-19 in March," said Jeffrey Boutwell, a foundation volunteer and donor who established the Youth in Philanthropy program. "First, they re-oriented the initial grant program of $10,000 to meet the needs of coronavirus emergency response organizations. Then in June they took the initiative to start a second round of fundraising that ultimately brought in $20,000 that they have just awarded in grants."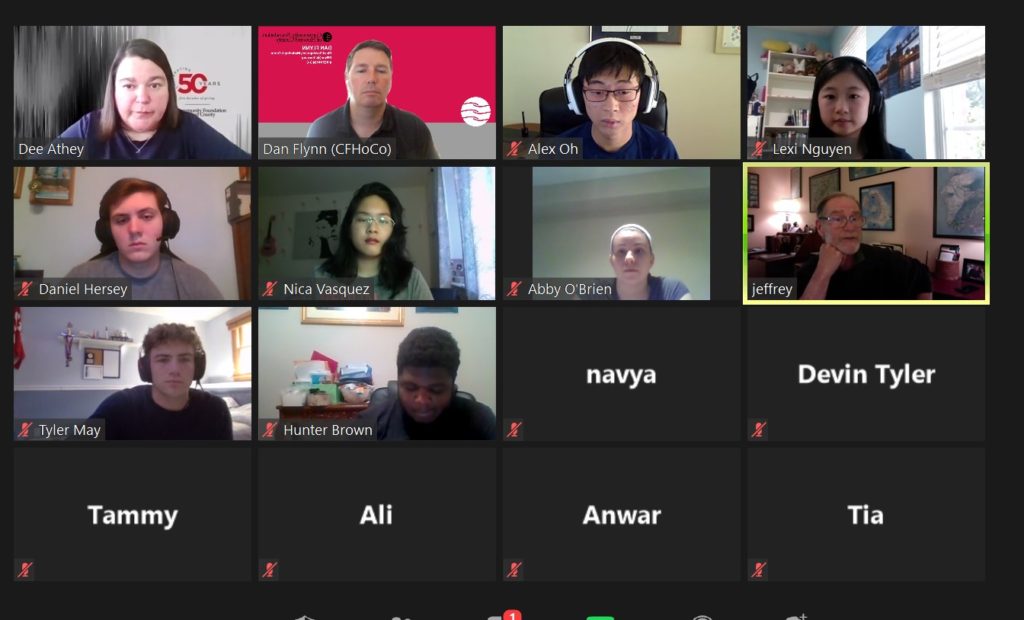 After the first round of grants at the end of May, the students decided they needed to do more. The YIP students initiated their own fundraising campaign to raise $5,000, and they exceeded their goal in just 19 days. Each student was challenged to reach out to 19 people in his or her personal network asking for a $19 donation for COVID-19 relief as part of their #19for19 campaign. Along the way they inspired three other entities to support their efforts with matching gifts. BGE, the development team building the new Howard County Courthouse and the CFHoCo board all stepped up with $5,000 matches when they heard the YIP story.
"Throughout the COVID-19 pandemic, BGE has endeavored to balance two important commitments to our residential and business customers and the communities we serve: provide relief from COVID-19-related economic hardship and continue to invest in the critical electric and natural gas infrastructure to ensure safe and reliable access to energy," said Rodney Oddoye, BGE's senior vice president of governmental and external affairs. "It is our hope that BGE's match of the Youth in Philanthropy fundraising effort will be of assistance during this crisis and help to navigate this challenging period."
"I'd like to thank the courthouse development team, BGE and the foundation for matching the students' fundraising," added Boutwell. "In addition to increasing the impact YIP can make with our funding, it encourages the students and demonstrates the power of philanthropy."
Here's more information on each of the six selected Howard County nonprofits with a note on why each was chosen:
Equity4HC ($5,000)
"We chose Equity4HC because food may not be accessible or available for some people, and Columbia Community Care makes a direct impact that community members can benefit from by providing food at their stations located at schools such as Swansfield Elementary," said Lexi Nguyen, a rising senior from Atholton High School.
HopeWorks ($2,000)
"We chose HopeWorks for funding because of the surge in domestic violence cases due to COVID-19," stated Devin Tyler, a rising junior at Glenelg Country School. "HopeWorks has done an excellent job of providing much needed support for victims of this tragedy, and we think that our funding will help them to expand their outreach and continue to positively impact the lives of citizens in Howard County."
Meals on Wheels ($3,00)
"Considering how the elderly have been heavily impacted by COVID-19, we selected Meals On Wheels due to its holistic approach in terms of its meal delivery service," said Nica Vasquez, a senior-to-be at Wilde Lake High School. "By having the elderly receive in-home meal delivery, Meals On Wheels not only focuses on tackling hunger, but also combats social isolation, addresses safety hazards, and overall provides holistic care to the elderly."
Neighbor Ride ($2,000)
"We take it for granted, but the independence we have from being able to drive ourselves anywhere isn't available to everyone," remarked Lexi Nguyen, a rising senior at Atholton High School. "This is true for many senior citizens, who may not have access to transportation. Neighbor Ride provides access to safe and reliable transportation, allowing seniors to continue to be independent and stay connected to the community. Especially now in the pandemic, where we need to follow safety guidelines like social distancing, we want to ensure that seniors in our community can have the same independence that others have to get where they need to be in a safe and reliable way."
Prepare for Success ($3,000)
"With the recent announcement of schools moving online for at least the first semester due to the ongoing pandemic, the demand for school supplies for all ages will be at an all-time high," commented River Hill High School rising senior Alex Oh. "By connecting Howard County students to a full set of school supplies that they need to be successful in this new model of education, Prepare for Success removes financial burden from students' families and allows the students to focus on their studies."
United Way of Central Maryland ($5,000)
"As I have personally been impacted by the current pandemic — suffering the death of a beloved family member — I am acutely aware of how trying this time has been for many Americans," stated Anwar Perry, a rising senior at Reservoir High School. "Unlike some who have suffered a loss to coronavirus, I am fortunate to have been largely shielded from the economic downturn. The working class, particularly African Americans, has been hardest hit, so choosing United Way of Central Maryland's COVID-19 fund was both a practical and personal choice for me. The fund helps families who are struggling to afford basic expenses; assists other nonprofits who are strained due to current demands; and supports healthcare workers who have been on the frontline during this crisis."
The new YIP grants come after two rounds and $407,500 in funding to Howard County nonprofits from the HoCoRespond effort, a collaborative funding group comprised of the Community Foundation of Howard County (CFHoCo), the Horizon Foundation, the United Way of Central Maryland and the Women's Giving Circle of Howard County working to provide immediate impact for COVID-19 relief. On top of that, CFHoCo donors have distributed an additional $116,500 from donor advised funds directly to Howard County nonprofits during the crisis.
Support Youth in Philanthropy with a donation.
Support the Howard County Community Relief Fund with a donation.
Link to Baltimore SUN story on Youth in Philanthropy grants.