Philanthropic gifts of real estate are often complex. But we have the expertise and the structures to help your clients easily navigate this process.
The Community Foundation of Howard County (CFHoCo) established Real Estate Charitable Foundation of Maryland (RECFM) to help donors make real estate gifts.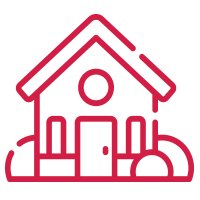 For many individuals, real estate represents a significant portion of their wealth. A gift of real estate offers an excellent way to unlock the full appraised value of a property and establish a charitable legacy supporting your favorite causes for years to come.
Typically, donors will simultaneously establish a donor-advised fund at the Community Foundation of Howard County. At such time as proceeds have been realized from the sale, and all carrying and transfer costs have been met, the funds will be transferred from the RECFM to CFHoCo and placed in a donor-advised fund in the donor's name.
Immediately, you will be able to make grant recommendations from your fund to the causes about which you care.
When is the gift of real estate appropriate?
If you own residential, commercial, industrial, rural/agricultural or undeveloped real estate that you no longer want to maintain or have a partnership interest in a real estate project.
If the property generates income, or can readily be sold after gifting, to fund grant making that achieves your charitable goals.
If the property is environmentally clean.
If the property is free (or can be freed) from mortgage liability.
If you hold a controlling interest in a corporation and the property has been held for more than one year, the corporation may deduct a percentage of the net profit.
What benefits will you enjoy?
The joy of supporting causes and nonprofits important to you.
Maximizing your tax deductions.
Receiving a dependable income for the rest of your life.
Helping to improve the community in which you live.
Supporting your favorite causes and nonprofits now and after your lifetime.
Exiting a 1031 exchange and avoiding capital gains.
Eliminating the headaches of managing rental property currently worth less than your original purchase price.
To initiate consideration of a gift through the Real Estate Charitable Foundation of Maryland, please email Beverly White-Seals or call (410) 730-7840.
Real Estate Charitable Foundation of Maryland Board
Bruce Harvey
Board President
President, Williamsburg Homes
Mary Ann Scully
Dean, Sellinger School of Business and Management, Loyola University Maryland
Rob Moxley
Principal, Security Development Company
Abby Glassberg
Sr. Vice President, NAIKLNB Commercial Real Estate Services
Meg Moon
Division Attorney, CalAtlantic Title
Russ Dickens
Regional Partner, Elm Street Development 
Rich Thometz
Hailey Development, LLC
Efficient Home, LLC
Dan Kelliher
Kelliher & Salzer LLC
Beverly White-Seals
President & CEO, Community Foundation of Howard County
President & CEO, Real Estate Chartiable Foundation of Maryland
Get updates on issues that matter to you.
Subscribe to Community Foundation of Howard County News.