During a ceremonial zoom call with more than 50 participants, Carlessia Hussein and the Community Foundation of Howard County (CFHoCo) announced the 41 recipients of the 2020 Carlessia Hussein Minority Scholarships. The ceremony featured inspirational words from several local leaders, including Howard County Executive, Calvin Ball, scholarship founder and namesake, Carlessia Hussein, HCPSS Executive Director of Community, Parent and School Outreach, James LeMon, and CFHoCo President & CEO, Beverly White-Seals.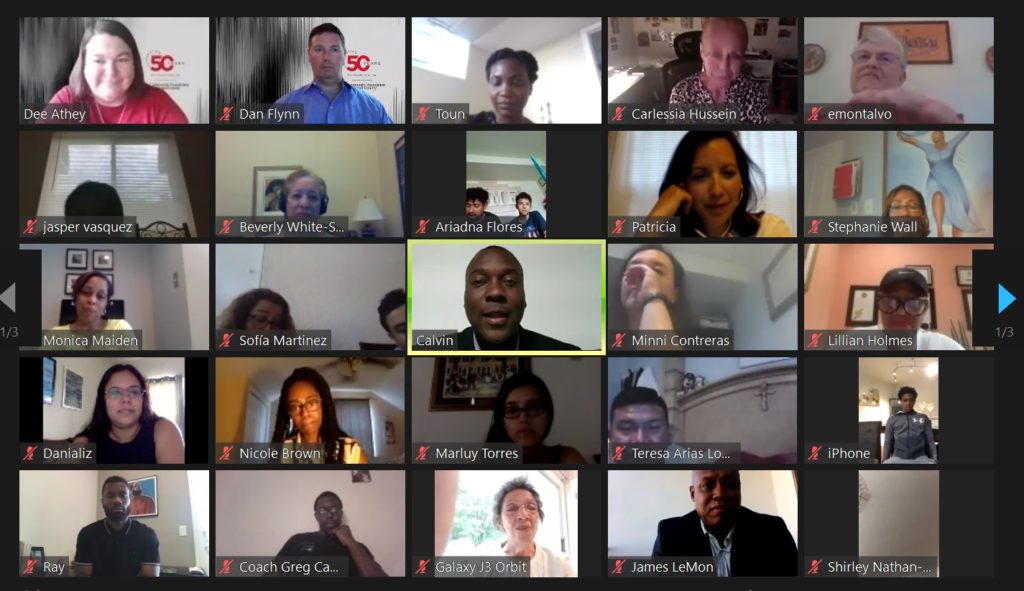 Carlessia Hussein Minority Scholarships are dedicated for African American, Latino or Native American males who are enrolled in a Howard County public middle schools. The funds cover tuition and related expenses associated with participating in "qualified programs" that provide opportunities to gain knowledge, skills and unique experiences to enable them to successfully complete school and become life-long leaders in their community. There is up to $25,000 available, approximately $350 per week of camp per applicant.
Watch the ceremony and speeches here.
Dr. Hussein started her career as a nurse and two decades later earned her doctorate in public health from the University of California, Berkeley. Throughout her career she made a significant impact on population health at the local and state levels. Interlaced in her more than 50‐year career, has been a commitment to the health of minority, underrepresented and underserved populations.
Dr. Hussein believes, by virtue of circumstances beyond their control, that some children need additional help to reach their full potential. She strongly believes that by reaching out to one child at a time you can affect the lives of many people. Through this scholarship Dr. Hussein is able to offer that much needed support to children in their more formative years to ensure they are "on the right track." To that end, this scholarship provides children access to programs that encourage leadership, academic achievement, character development, expand problem‐solving skills and engender a sense of community.
This scholarship is Dr. Hussein's way of "passing it on." For more information, review the guidelines and application. An updated qualified programs list can be found here. Students that have previously received this scholarship, and continue to meet eligibility criteria are encouraged to apply again.
The list of 2020 Carlessia Hussein Minority Scholarship Winners (alphabetical by school):
Bonnie Branch Middle School
Brandon Chevez Ocampo
Jasper Vasquez Vallejo
Harper's Choice Middle School
Adebowale Adeleye
Jason Anaya Cuellar
Axel Carranza-Celis
Mathew Depeine
Jaiden Foulks
Darian Harvin
Giancarlo Martinez-Alarcon
Brandon Rivera-Cacerez
Jerome Taylor
Isaiah Terry
Omari Vanier
Jayden Wynn-Franco
Lake Elkhorn Middle School
Joshua Andrews
David Andrews
Arnez Megginson
Ni'ren Taylor
Mayfield Woods Middle
Gensel Deras
Diego Lugo Ortiz
Ariel Pena-Rivera
Miguel Ramirez Marquez
Miguel Rodriguez
Jonathan Ruiz Garcia
Alvaro Torres Rodriguez
Murray Hill Middle School
Damian Cabrera
Bryan Lopez Montoya
Daniel Sixtos Grande
Jonathan Torres
Oakland Mills Middle School
Steven Martinez-Preza
Christian Murillo-Chicas
Brandon Tepetitla
David Velasquez Martinez
Pedro Villatoro-Flores
Patuxent Valley Middle School
Carlos Blanco Hernandez
Josiah Garcia
Thomas Viaduct Middle School
Sein Perez Arias
Daniel Ramirez Lopez
Tito Salazar
Wilde Lake Middle School
Myles Storey
Jabron Waters