The Community Foundation of Howard County (CFHoCo) will host its annual Spring Party on Wednesday, May 24. The Spring Party will again be on the grounds of The Apple Ford Center at Athol Manor in Columbia from 5-8 p.m.
With a tasty variety of food trucks, raw bar, wine, local beer and Sobar zero-alcohol offerings served by guest bartenders, live music and party tents, the event is a local rite of spring. Featuring a guest list of community leaders and foundation friends, the Spring Party continues to be the networking event of the season in Howard County.
This event will be held outside on the grounds around historic Athol Manor. Business casual and lawn party chic attire are recommended, but please dress appropriately for the weather. Unless there is an extreme weather event, the party will go on rain or shine.
The evening will feature:
Food stations from a variety of local favorite food trucks
Raw Bar with oyster shucker by Hudson Coastal
Local craft beer from Black Flag
Seasonal wines + a welcome cocktail from Wisher.
Signature zero-alcohol Sobar cocktails, beer and wine
Sweet treats include an ice cream truck and candy bar
Live acoustic music by Dave & Rebecca
Art exhibition with Art Connection Capital Region
Networking with old and new friends
Grand Raffle featuring a bevy of enticing items from local partners
Tours of Athol Manor, our historic home built in 1740
TICKETS
The event helps raise critical operating funds for the foundation's mission to connect people, places and organizations to worthy causes across Howard County and beyond. Tickets for the evening of entertainment, food and drink are $100 and are on sale now.
GRAND RAFFLE
This year we are introducing a new Grand Raffle! A series of valuable prizes will be available to win from friends in the community. You do not need to be in attendance at the Spring Party to win prizes, but you do have to play to win. Buy tickets below. $20 to get one chance, $50 for five chances, $100 for 15 chances (best value). Learn more about the raffle and prizes here.
SPONSORSHIP
We hope you or your business will consider sponsoring the event. A sponsorship gives your business valuable exposure and visibility to an active, desirable demographic of movers and shakers across Howard County, while showing your support of local nonprofits. Please consider a sponsorship to provide exposure for your business and to help the foundation with its strategic mission to connect people, places and organizations to worthy causes across Howard County and beyond.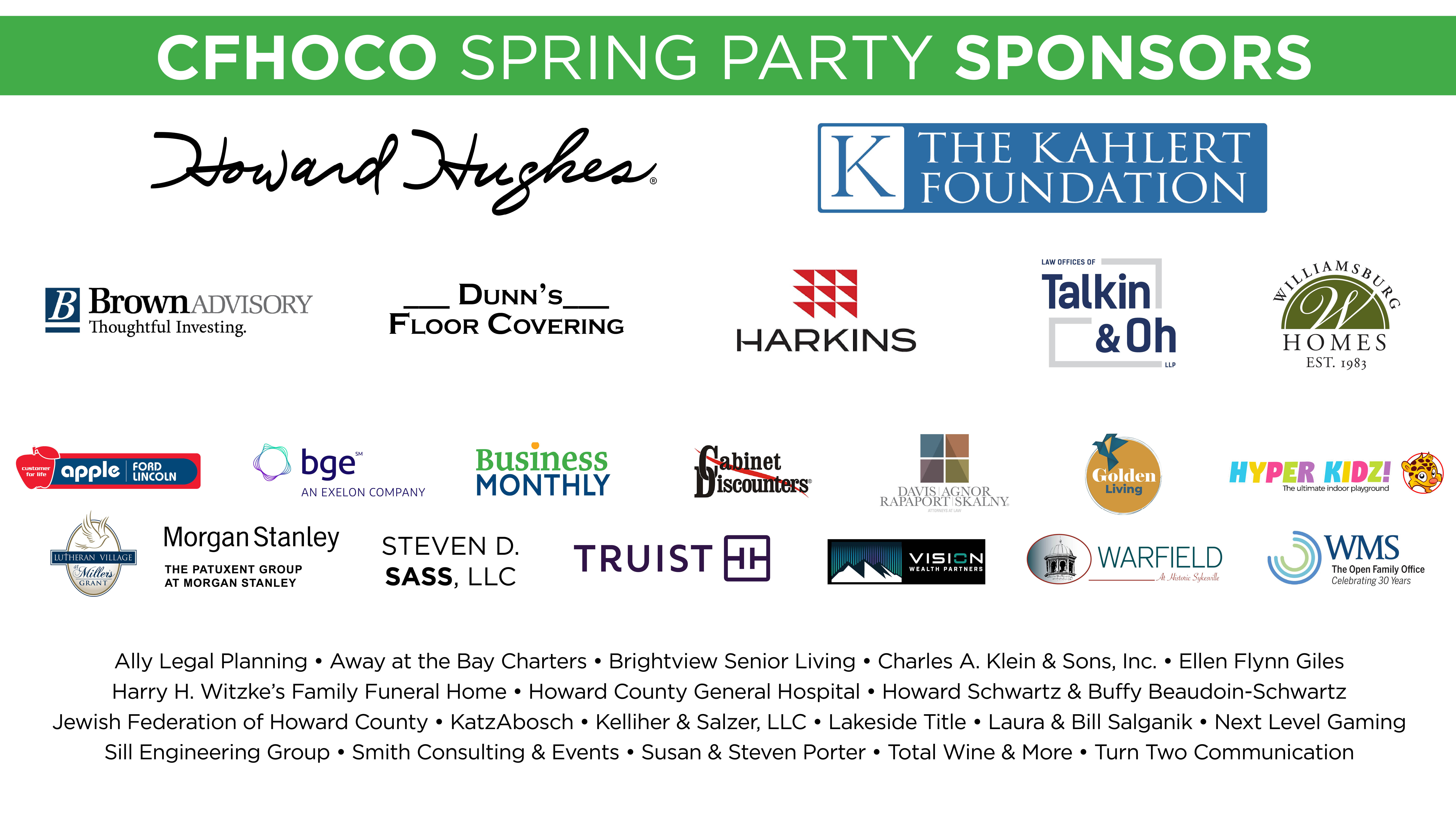 PARKING
We have arranged for guests to park for free nearby at Beth Shalom as the primary option. Please look for spots at Beth Shalom first.
Two shuttle buses will run continuously during the event to bring guests to Athol Manor and back to their cars. Shuttles will run from 5 p.m. until 8 p.m. Shuttle stops will be designated with signage.
No parking will be available in the Brightview or Community Foundation lot, but drivers can circle through the lot to drop off guests before parking remotely.
Additional street parking is allowed along Martin Road. Please observe the posted signage!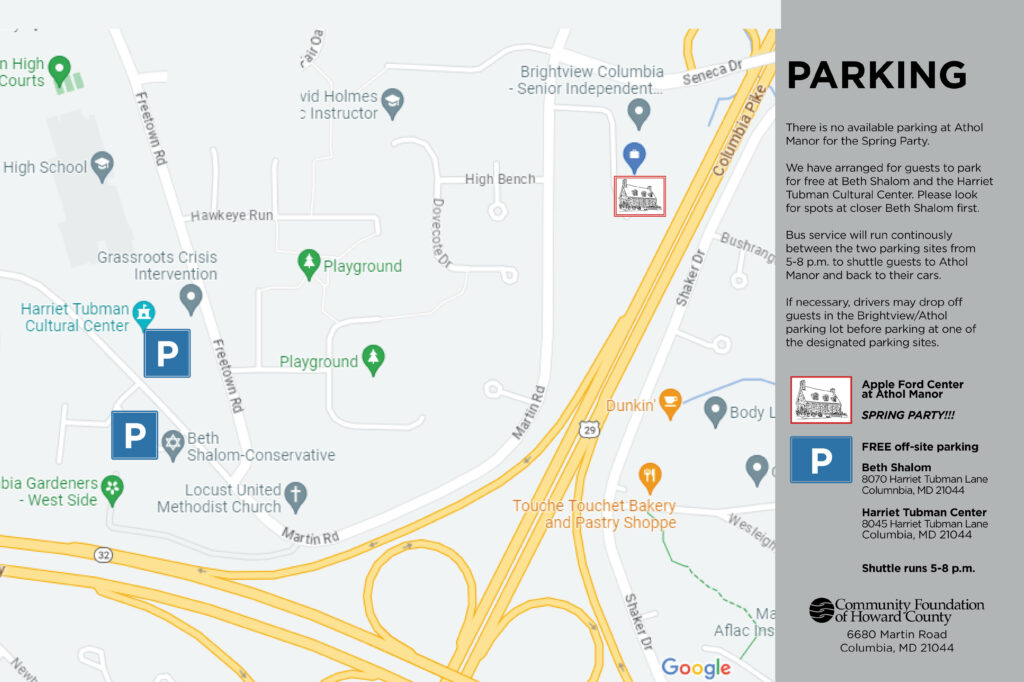 ART EXHIBIT
The Community Foundation of Howard County is partnering with the Art Connection in the Capital Region (ACCR) to present The Art of New Beginnings, a curated exhibition featuring original artwork by regional artists that will be installed in the Athol Manor Gallery during the party.
ACCR is a non-profit that facilitates the donation of original artwork to non-profits throughout the Baltimore/Washington area to enrich the lives of those living and working within the community. ACCR has placements in Howard County at Grassroots Crisis Intervention Center and Laurel Advocacy and Referral Services (LARS).
Five Howard County non-profits have been selected to receive the artwork in the Art of New Beginnings. Each organization will have the opportunity to choose artwork that speaks to their mission and vision and will be gifted the artwork for permanent donation upon the exhibition's closing.