The Community Foundation of Howard County awarded its top philanthropy honors to OhanaHC and Matthew Plantz at its Annual Dinner and Celebration of Philanthropy. The event, held virtually, recapped one of the most pivotal years in the foundation's history and provided an opportunity to highlight the tremendous work being done by nonprofits in Howard County.
"One of the great honors of hosting this celebration of philanthropy is recognizing the outstanding people and organizations throughout the nonprofit community," stated Dan Flynn, director of development, marketing and communications at the Community Foundation. "As we approach each Annual Dinner, we accept nominations from staff and board members of local nonprofits in order to single out and salute an individual (with our Leadership Council Award) and a nonprofit or program (with the Casey and Pebble Willis "Making a Difference" Award) who are making a significant impact in our community. The two award winners really stood out."
Casey and Pebble Willis Making a Difference Award: OhanaHC
The Casey and Pebble Willis "Making a Difference" Award recognizes a nonprofit for its outstanding work and rewards it with a $3,000 unrestricted gift. The program or project nominated must have directly impacted a resident or residents of Howard County and will need to have made a quantifiable difference.
One particular program that is making a difference is OhanaHC. OhanaHC was established in 2020 with a dual mission to both empower Howard County students to overcome barriers and achieve self-defined success and to build community by developing relationships with people who are outside normal social circles. The concept is to surround a student, starting in ninth grade, with a diverse group of four adults to form a unit called an "Ohana" (a Hawaiian term for family).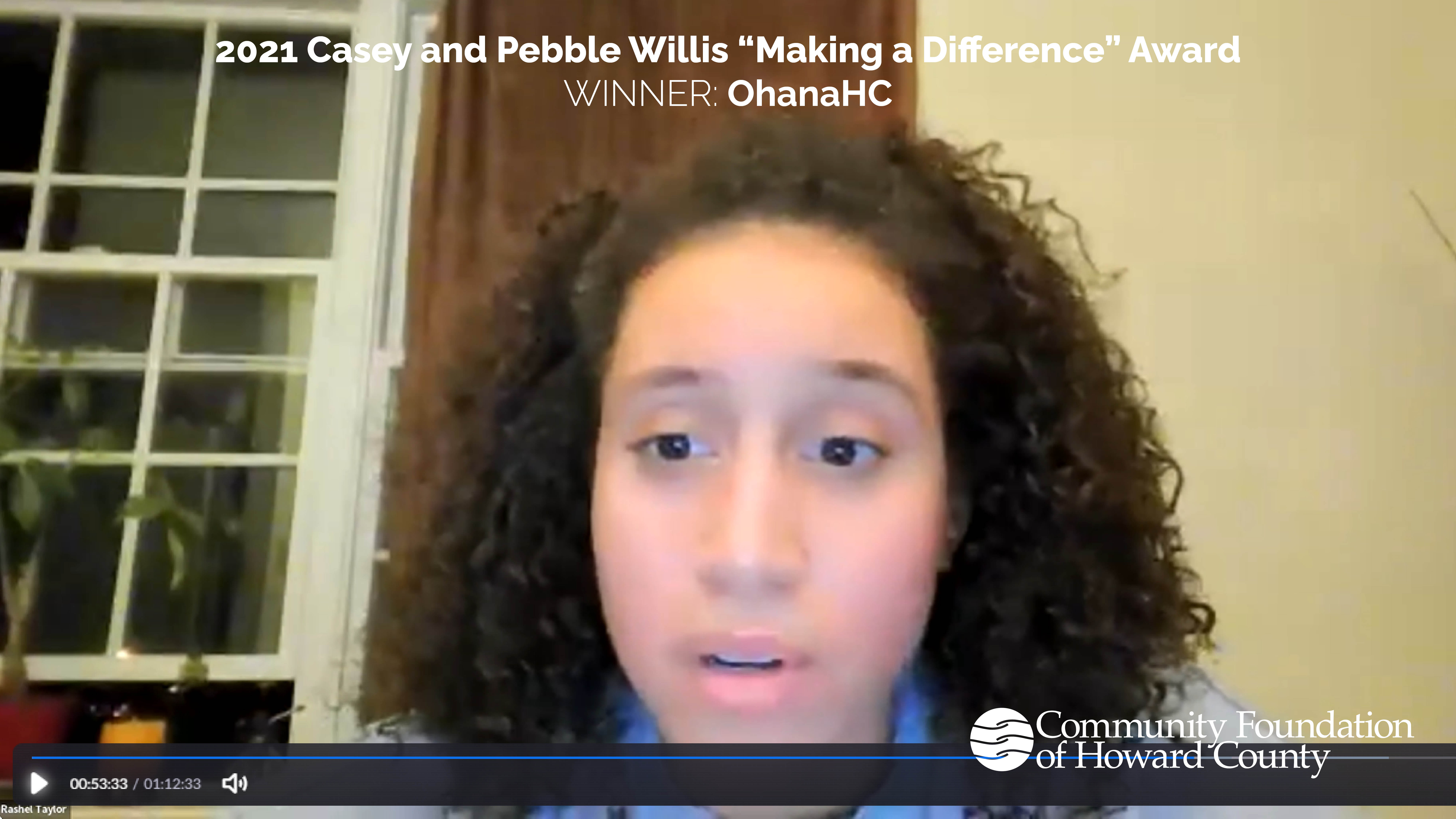 The pilot program consisted of 10 freshmen students at Wilde Lake High School during the 2020-21 school year. This fall OhanaHC expanded, adding Hammond, Long Reach and Oakland Mills high schools bringing the total number of schools to four. In only its second year, there are now 40 students and 160 volunteer mentors currently actively engaged in OhanaHC. Rashel Taylor, the new executive director of OhanaHC, was on hand to accept the award on behalf of the nonprofit.
The award was created in 2000 to honor the work of Casey Willis. A community activist for the 26 years she lived in Howard County, Casey believed people could have a positive impact by putting their beliefs into action. Each year, Dr. Eugene "Pebble" Willis, loving husband of Casey Willis, enjoyed presenting the award personally at the Annual Dinner. Dr. Willis by profession was an Orthopedic Surgeon dedicated to providing excellent care and services to his patients and making a difference in our community. In 2009, Dr. Willis, passed away. This award is now offered in memory of both Casey and Pebble Willis.
PAST WINNERS
2020: Girls on Fire for its mentoring program for girls
2019: N/A
2018: N/A
2017: Humanim, Inc. for its Healthy Transitions Program
2016: Community Action Council for services in the aftermath of the Ellicott City Flood
2015: A-OK Mentoring and Tutoring
2014: Camp Attaway
2013: Domestic Violence Center of Howard County for its Sexual Assault Hospital Accompaniment Program (SAHAP)
2012: Neighbor Ride
2011: Linwood Center for its Linwood Center Boutique
2010: Community Action Council of Howard County for its One Month's Rent initiative
2009: Chase Brexton for its Program for Dental Screenings & Health Promotion
2008: Rebuilding Together Howard County
2007: Howard County Autism Society
2006: FISH of Howard County, Inc.
2005: Grassroots Crisis Intervention Center
2004: The Health Alliance
2003: Christ Church Link Program
The Leadership Council Award: Matthew Plantz
The Leadership Council Award recognizes a 25- to 45-year-old who has shown leadership and commitment as a member of a nonprofit board in Howard County and includes $1,000 supporting the recipient's organization. The Community Foundation's Leadership Council, comprised of the foundation's past board chairs, established the award in 2008.
This year's winner was Matthew Plantz from Howard County Autism Society. "Matthew believes strongly in being a self-advocate — and as a result of his passion and hard work he is making lives better for everyone in Howard County who has autism," remarked Peter Panepento, the past CFHoCo board chair, in presenting the award at the virtual event.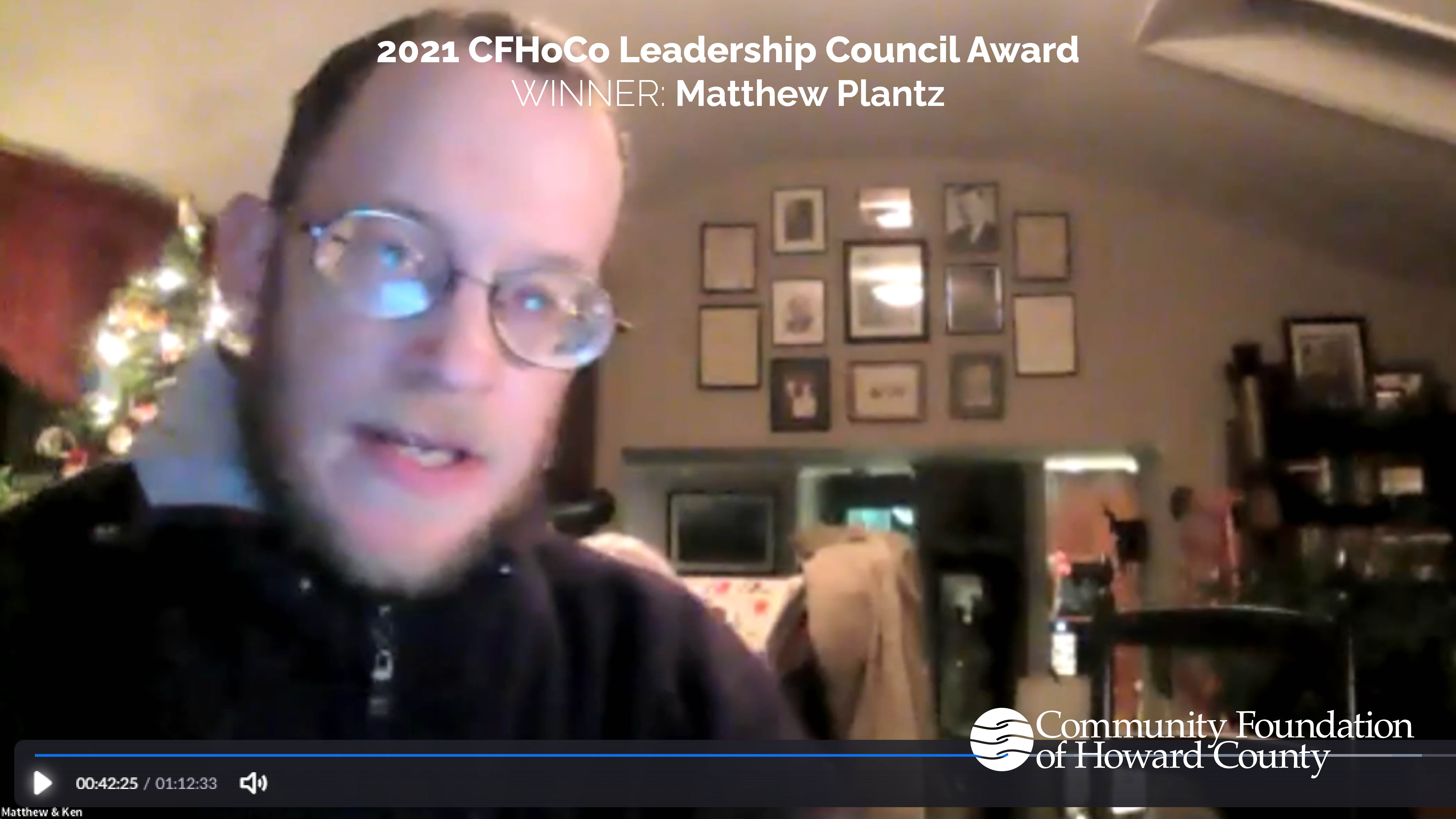 In addition to serving on the board of Howard County Autism Society and several of its committees, Matthew is:
active on its Housing Task Force,
participates in Advocacy days locally, in Annapolis, and on Capitol Hill,
and makes "Autism 101" presentations to local schools and community organizations, adding his perspective as a person with disabilities.
"His energy is boundless and I think you'll see why those who know Matthew describe him as a person of great purpose and character — someone who uses his voice to help others and who is improving lives each and every day," stated Panepento.
PAST WINNERS
2020: Erika Strauss-Chavarria, Columbia Community Care
2019: no award
2018: no award
2017: Yashica Maclin, Community Action Council
2016: Laura Yoo, HoCoPoLitSo
2015: Steve Poynot, Howard County Arts Council
2014: Alice Giles, League of Women Voters (pictured above)
2013: no award
2012: Lara Weathersbee, Domestic Violence Center
2011: Tom Coale, Voices for Children